An Outdoor Education Adventure for Early Childhood.
Serving ages 3.5 – 5.5
School runs from late August to mid June.
Applications for the 2023/2024 school year are now CLOSED. Read below for the application process.
Maple Grove is an early childhood, outdoor education program.
The curriculum is inquiry-based and emerges out of the students' curiosity and motivation. Students will learn within nature, about nature and about their place on earth. Through daily interaction with the land, the students gain a true appreciation for how it changes over time. They will also have the opportunity to build skills through a balance of educator-guided activities and free play, fostering executive function, motor and spatial skills, community building and confidence.
Our program gives students the unique experience to learn through play and guided risk taking while steeped in the wonder and magic of childhood.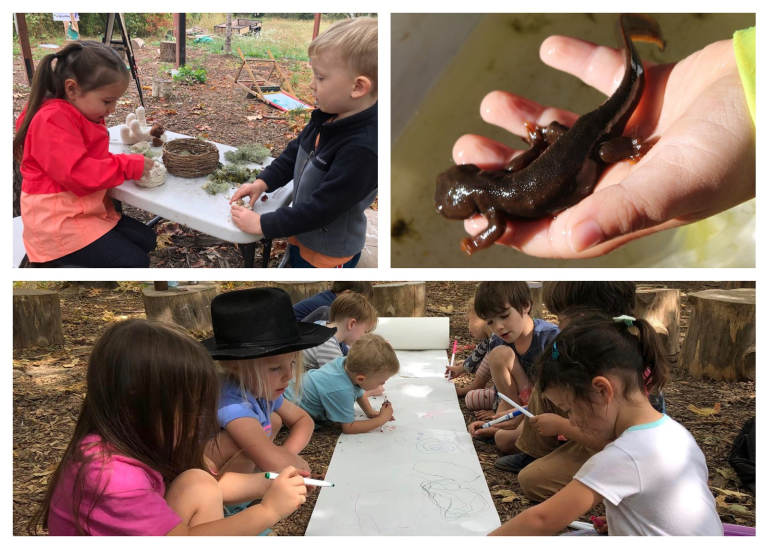 What Outdoor Educational Play Offers
Rich sensory first-hand experience which is essential for growing minds.

Engagement with the wonder and mystery of the natural world.

Space and freedom to try things out, explore, experiment, and investigate how the world works.

Space for whole-bodied, expansive movement.

Natural engagement with key STEM concepts such as gradient, gravity, speed and energy, and lifecycles.

Opportunities for adventure, risk and challenge that build self-confidence and encourage team work. (Tovey, H. 2016)
Educational Philosophy Objectives
We believe children learn best when engaged and intrinsically motivated in what they are learning. We will help promote this learning by:
Appreciating the individuality of each child and celebrating their unique qualities.

Teaming with families to understand the children through the wisdom of their first teachers: their families.

Assisting children in their interactions with others and offering opportunities for cooperative learning and community building.

Encouraging divergent thinking and reflection by asking open-ended questions and guiding students through inquiry based learning.

Allowing the curriculum to emerge out of the children's interests and developmental levels, based on in-depth observations, documentation and reflection.

Providing an environment that encourages discovery, experimentation, wonder, and curiosity.
The Daily Rhythms and Routines
Schedule:
9:15 – 9:30: Settle in time (books, painting, snack)

9:30 – 9:45: Circle time music, stories, and games

9:45 – 11:45: Nature exploration (with guided inquiry)

11:45 – 12:30: Gather / lunch / documentation

12: 30 – 12:50: Rest, stories and poems
Hours and Ages:
Children 3.5 – 5.5 (potty trained and not 6 years old by first day of school)

9:00 am – 1:00 pm Monday – Thursday

9:00 am – 1:00 pm Monday/Wednesday
– or –
9:00 am – 1:00 pm Tuesday/Thursday
The beginning and ending of the school year align with the McMinnville School District calendar.
Tuition
Tuition is paid every month in ten equal installments based on days offered in a given academic year. There will be no credit for missed classes (including emergency closures). It will be paid at the beginning of every month, with a $15.00 late fee after the 15th (students will not be credited for absences).
Monday-Thursday: $550.00 per month
Monday/Wednesday: $275.00 per month
Tuesday/Thursday: $275.00 per month
Application Process
Please keep in mind that spaces in Maple Grove Nature School are extremely limited to maintain our small class sizes and low ratios.
Applications are ONLY accepted during the month of March each year for the following school year. To stay up to date on when enrollment opens and other program information sign up below to receive our newsletters and follow us on social media.
Once enrollment opens the application process will be as follows:
Step 1. Submit an application through this link: Nature School Application for New Families (if you are a currently enrolled family wishing to return, speak to your teacher). The school's director will contact you with more information after the application deadline passes. Submitting an application is not a guarantee of acceptance or enrollment in the program.
Step 2. If space is available you will be invited to take a tour of the school with your child to make sure it is a good fit (this is a mandatory step).
Step 3. The director will notify you in early May as to your enrollment status.
Step 4. If accepted you will be invited to formally register. Nonrefundable material and admin fees, totalling $100, will be due upon registration. You will be invoiced for tuition prior to the first of each month starting with September.
Step 5. Attend a mandatory orientation prior to the start of school.
The application deadline was March 31, 2023.
Contact the Nature School Director with questions.