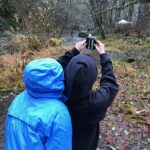 Salmon Watch is an experiential, environmental education curriculum for middle and high school students, centered around salmon ecology. The program provides classroom curriculum, a field trip to a local stream, and options for service learning projects.
Teachers are provided ideas, lessons, and resources to help teach about nature, salmon, water quality, and human choices before and after their field trip.
Field trips are facilated by Outdoor Education Adventure staff and trained volunteers. During their field trip students participate in four hands-on learning stations where they have the opportunity to explore their natural environment by wading into streams and catching aquatic macroinvertebrates, testing the water quality, looking and listening for indications of healthy riparian habitat, and learning about the amazing life of wild salmon.
Yamhill County Salmon Watch field trips take place on local waterways during the fall salmon migration between October and early December.
Interested in volunteering or scheduling a program for your students? Contact Us to learn more.