The weather has definitely shifted the last 2 weeks. The warm sunny 80 degree days are a fading memory now that the typical cold wet Pacific Northwest Autumn is here. As we ease into winter the weather will get a bit colder and wetter. Most animals (including people!) slow down this time of year, choosing to stay snuggled up in their warm home instead of getting outside to play. However, there are so many benefits to getting our bodies moving outside in all types of weather. Taking our kids outside to play on cold wet days helps build resilience, stimulate our immune systems, and teaches our kids that there's no such thing as "bad weather".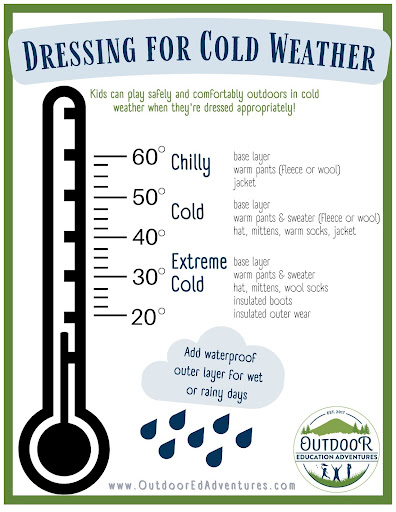 Kids (and their grown-ups!) can play safely and comfortably outdoors when they're dressed appropriately. The 2 main keys to dressing appropriately are to choose the right types of fabric and layer them effectively.
In the Pacific Northwest one rarely needs more than 3 layers to stay warm, the base layer, the middle layer and the outer layer. Choose layers that are made of fleece, wool, polyester or acrylic blends. Always avoid cotton if you can as it collects and holds on to moisture which can then chill the skin when it's cold and lead to a drop in body temperature.
Base Layer 
These are necessary in winter. This is the layer closest to the skin. It wicks sweat away from the skin to keep you warm and dry. Undershirts and leggings should be somewhat tight to the skin for maximum warmth. Wool or wool blend socks work best. Base layers should be polyester, nylon, or wool. You'll want to AVOID COTTON! Fleece jammies work great as a winter base layer! 
Middle Layer
This layer goes right on top of the base layer and it retains body heat to provide an insulating layer of warmth. It is generally thicker and "fluffier" than the base layer. Thick knit wool, polyester, fleece, down insulated, and synthetic insulated are all great options. Again, always avoid cotton if you can.
Outer Layer
This layer shields you from the elements such as wind, rain, and snow. In winter you'll want to wrap your kids in an insulated, waterproof outer layer. When purchasing outer layers always size up so it fits comfortably over the other layers.
When searching for gear you may see an item described as water resistant or waterproof. Most winter items (mittens, snow pants and snow boots) are water resistant. They can manage soft, fluffy snow, but not deep puddles or slush. When you are outside in cold and wet weather, being water resistant is not always enough to stay warm and dry. We need to be as waterproof as possible here in the wet PNW. Always look for waterproof over water resistant gear for wet or rainy days.
Rainpants, rainsuits, rain boots and waterproof rain mittens are not just for rainy days!  A waterproof outer layer keeps children dry and comfortable when sitting on damp, cool ground, and provides protection from wind. 
For mittens, try pairing warm wool or fleece mittens with unlined waterproof mittens. The layers add extra warmth and on very cold days a hand-warmer can also be added. This combination keeps hands warm and dry in a range of weather conditions and can be adapted as needed throughout the seasons. 
Outdoor Gear Brands We Recommend
Please note: OEA is not sponsored or supported by any of these companies in any way.
Polarn O. Pyret – This is an outstanding Swedish brand. They are expensive, but the quality is excellent. Their waterproof mittens are top of the line! 

Oaki – A PNW company that makes durable, high quality one-piece rainsuits as well as insulated, neoprene rain boots. 

Reima – A very reasonably priced brand that makes roomy, suspender style rain pants and secure, waterproof mittens. Their waterproof material is durable, but slightly less breathable than other brands. 

Tuffo – Tuffo's best seller is their one-piece muddy buddy rainsuit. It is very lightweight and can fit easily over snowsuits, making it a good waterproof layer even in the winter. 
HOW TO KEEP GEAR AFFORDABLE 
Here are some of our favorite ways to save and find affordable quality gear: 
Instead of more toys, ask friends and family for gear as holiday and birthday gifts! 

Check local thrift stores: St. Vincent de Paul, Goodwill, New to You, & Pitter Patter in Newberg

Check local Facebook marketplaces. 

Join your local Buy Nothing group on Facebook 

Find deals or buy used from top brands. 

Patagonia https://wornwear.patagonia.com/shop/kids-and-baby 

Buy off-season

Outdoor School Shop often has sales at the end of season.

https://outdoorschoolshop.com/https://outdoorschoolshop.com/

Purchasing high-quality items usually ends up being more cost-efficient than the cheap ones because they last longer and are often easier to repair when needed (many high-end manufacturers stand behind lifetime warranties and will make free repairs). In addition, they're more eco-friendly because they don't end up in the landfill as often or require as much raw material to replace over and over. Win-win! 
Getting our kids and ourselves outside in cold wet weather can be a challenge. Oftentimes, the most difficult part is getting everyone dressed appropriately and out of the house. But once you get there, there is so much magic to be found outside in the late autumn and winter!